BENEFITS OF UPDATED SAP S/4HANA
Real-time analytics combined with transactional data is undoubtedly the biggest differentiator that SAP has brought to ERP usage with the release of S/4HANA.
There are hundreds of standard applications and possibilities for use that increase and improve with each new version of this powerful business solution.
So the question is: Why is your company still using S/4HANA with the SAP ECC appearance?
With this in mind, Coopersap developed a project model to enable SAP Fiori for 100% of users' needs, going through the 04 SAP S/4HANA upgrade steps, listed below.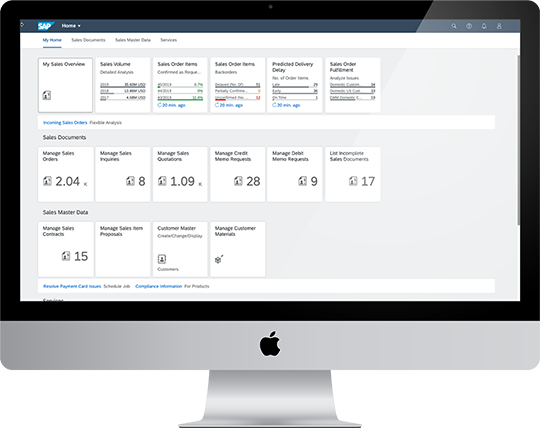 STEPS FOR THE SAP S4/HANA UPGRADE
SAP S/4HANA version update
Launchpad Fiori configuration and access profiles
Activation of SAP and user menu for access to all transactions by Fiori
Installation and gradual transition of transactions to SAP S/4HANA native Fiori applications
MAXIMUM PERFORMANCE
Does your company have SAP S/4HANA and not yet use Launchpad Fiori? Talk to Coopersap right now and discover a quick and cheap way to transform the user experience.
With the Coopersap strategy of the 04 upgrade stages, the transition impact is low and the users' adherence to the new interface is much greater. Best of all, your company's managers and executives start to use SAP S/4HANA much more, since most of their needs are met by mobile applications, accessible by tablet and smart phone.
SUCCESS CASE
Launchpad SAP Fiori S/4HANA 1809 activation at Brudden:
S/4HANA version upgrade project from 1610 to 1809 with Launchpad Fiori activation with 100% of access needs being met by SAP Fiori.
Use of standard applications, adjustment in standard analytical applications for handling currencies and values, construction of new applications to replace Z transactions and activation of access to "Fiorized" transactions.
Client: Brudden
Engaged team: Basis, Profiles, Developers and Functionals
Project delivered in July/2020
At Coopersap your company uses the maximum performance of SAP S/4HANA with the best cost-benefit ratio.
Got doubts? Talk to an expert: